TIME CAPSULE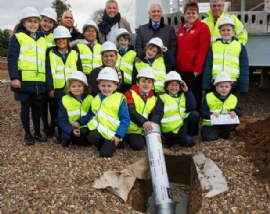 On Wednesday 17th January the School Council buried a time capsule at the site of the new Egham Orbit Leisure Centre.
Please see below the childrens comments on their experience:-
"When we buried the time capsule, we met the mayor! We walked a long way to Egham Leisure Centre and we took lots of pictures. Then we put the time capsule into the hole and it was so much fun! Then we ate some biscuits and went back to school."
Lottie, Year 2
"At school we put a fidget spinner, a newspaper, pictures of the school and Egham and some chocolate bar wrappers and some other things into the time capsule. We went to see the time capsule get buried at Egham Leisure Centre. We walked there - it was a long way! We met the mayor, the builders and the arcitect. I had to put on a hard hat at the building site but it was too big and it kept falling off!"
Carys, Year 1
"We had fun on our trip to bury the time capsule. We filled the time capsule with photos, a school tie, a fidget spinner, a photo of the school council, photos of the school, a newspaper, badges, money and chocolate bar wrappers. It was fun to learn about designers and architects. It was quite fun meeting the Mayor of Runnymede and the builders too. We had fun burying the time capsule and wearing the stuff to keep us safe. We really liked it when Mrs Ruddick declared us as the best ambassadors for school. It was a great memory."
Shagun, Year 5 & Millie, Year 4
Please click here for the article on the Get Surrey website.